General Information
Have a message. State it. Write nothing else.
Prioritize. Focus on the research, findings, descriptions, or materials that you most wish to share. Convey your main message clearly to the reader.
Supporting material should go into appendices. These can contain less important text, data files, computer programs, detailed technical documentation, non-essential tables, maps, or figures as well as material in languages other than English.
Adhere to commonly used rules for writing scientific papers. That is, formulate your problem clearly, tell the reader why it is important to address this problem, and demonstrate what your findings contribute to the field.
Demographic Research is open to submissions of research and reflections. It also provides researchers with a unique forum for material that conventional journals are unable or reluctant to publish, such as descriptive findings, research replications, and research materials. We do, however, encourage authors to adhere to established standards of publishing format and length in the main texts of their work.
Submissions
No Fees
Organization and Availability
Speed of Publication
Supported Electronic Formats
Submission Procedure
Page Numbers
Section Headings and Numbers
Length of Submission
Abstract
Notes
Diagrams
Tables
Formulae and Symbols
Photographs and Images
Video and Sound Clips
Acknowledgments
References
Replicability
Review Process
Copyright Assignment and Publication Rights
Changes to Published Material
1. The Journal and its Content
Demographic Research is an online, open-access journal that publishes peer-reviewed
Research Articles

Descriptive Findings

Review Papers

Reflections

Research Materials

Summaries
on a continuous basis. Journal content is available online at all times. In order to allow readers an easy reprint option (for printing or downloading), we provide all content in PDF files. Volumes 1–3 provide HTML format for the papers as well.
Our prime publishing criteria are discovery, innovation, usefulness, and quality – in equal measure. All submissions are subject to peer review.
The journal will not consider for publication papers that have been published elsewhere, unless publication has been as a working paper or in a similar form. Presentations which have not been published as part of a printed or electronic volume of conference proceedings may be submitted.
We welcome submissions in seven categories:
Research articles are traditional journal papers, accepted for review with the stipulation that they are submitted exclusively to Demographic Research.
Descriptive Findings are careful, brief presentations of single, new empirical findings without integrated theory or extensive literature review. We encourage Descriptive Findings because identifying and sharing patterns in demographic data can stimulate further research on important topics. We intend to review and publish Descriptive Findings rapidly, so there are strict limits on content for this submission category.
A Descriptive Finding cannot
have more than 2,500 words, including all text other than references and table and figure captions

include footnotes, endnotes, or appendices

have more than five data exhibits (Tables + Figures, total)

subdivide data exhibits (e.g., Table 1A, 1B, ...) unless the subdivision corresponds to an important dimension of interest in the data (e.g., Table 1A for females, 1B for males,...)
We will consider very rare exceptions to these rules for situations in which description is necessarily complex, but only if the Editor has given permission in advance.
Review papers synthesize a large literature on a particular subject, often across disciplines. Ideally, they present this literature in a common framework. They do not include new findings, other than pointing out differences of interpretation, inconsistencies, etc.
Research materials are nontraditional submissions intended to facilitate research by others. This very open category includes software, web pages, data sets that are ready for analysis, descriptions of data available elsewhere, and any other contributions that could enhance demographic research.
Reflections are usually brief contributions that critically assess various aspects of the content published in the journal. They may also focus on current or "hot topic" demographic research findings, data, theory, tools, methods, or publications which have not been previously discussed in the journal.
Summaries are generally brief descriptions of collections of material, conference proceedings, or projects in progress. A summary should serve to make readers aware of material published in this journal or elsewhere, while describing content and relevance.
Reports are part of an ongoing Special Collection called "Formal Relationships", which presents short reports on mathematical relationships in formal demography.
There are no fees associated with publication of contributions. Authors will not be asked to contribute to costs of processing, formatting, or storing publications.
1.3 Publication Organization and Availability
The journal publishes two volumes each year, each covering a six-month period of January through June or July through December. Readers have free online access to the total content of the journal at all times. All material published is protected by copyright. The copyright for the journal and its contents is held by the Max-Planck-Gesellschaft, Munich, Germany. Copyright for the content of articles published after October 1, 2006, is held by the individual authors.
If accepted for publication by our Associate Editors, contributions will be published as soon as possible on a rolling basis. Once peer-review has ended and the author has been notified that the material is accepted, the editorial staff will work together with the author to prepare the content for publication. The date of first submission and the date of online publication will be listed online for each paper.
2. Guidelines for Submissions
Please download our house style here.
We require that authors
submit contributions in English,

consistently follow conventions of either American or British spelling,

use a 12-point or larger font throughout the text

double space lines throughout the text

submit a structured abstract (described below) on the web form and in the main text

follow the other requirements listed in the next sections
Submissions must meet these requirements before they can be considered for review.
We will not review poorly written submissions, and the editorial staff cannot edit contributions or assist with translation. Specifically, this means that we will not:
edit the incorrect usage of words or punctuation,

revise poor sentence construction,

reorganize the structure of contributions, or

correct spelling mistakes.
2.1 Supported Electronic Formats
We accept the following formats, in descending order of preference
MS Word [.doc or .docx]

PDF [please remove author names and identifying information from the file]

Rich Text Format [.rtf]

LaTeX
Contributions, once refereed and accepted, will be published in PDF.
Please submit your file(s) to our submissions desk via the weblink: www.demographic-research.org/submitting.
In special circumstances, or in times of maintenance on our website, you may also send us your submission by e-mail.
When submitting your work via the weblink, you will be asked to supply the following information:
Disclosure indicating whether or not this submission has already been published in any other language or in any other publication. Give details.

Title (and subtitle) of the submission

Names, academic degrees, affiliations, and e-mail addresses of all authors. If the authors have personal homepages, include their URLs here, but only if each author who has a homepage has agreed to the publication of the URL.

Name, address, e-mail, telephone number and fax number of the corresponding author

Source of funding, if applicable

A structured abstract (250 words or fewer, see instructions below). The abstract or summary should also appear in the attachment which contains the main text of your submission.

Type of submission (Research Article, Descriptive Finding, Review, Research Material, Reflection, or Summary)

Keywords or keyword phrases. Please list up to ten words or phrases describing the subject content of your contribution.

Word count of the full submission

Word count, as above, but excluding notes and references

Brief listing of all attachments, including information about their formats
You will be able to upload up to three files with your submission. Please label each file with a descriptive name. The first file should contain the abstract and the main text or body of your submission. Should you wish to include larger figures, photographs, sound clips, video clips, or large tables which have not been incorporated into the text of the article, include these as separate attachments and label them accordingly. Should you have more than two additional submission files, please group them in a zip file, making sure each item has a descriptive file name.
Please do not number the pages of your contribution or enter any other automatic headers or footers. Our staff will insert temporary page numbers prior to the review process.
2.4 Section Headings and Numbers
For any contribution of more than 1,000 words, your text should be divided into sections labelled with appropriate section headings.
Except for Descriptive Findings, there is neither an upper nor a lower limit on length. However, we strongly recommend that the main text of contributions not exceed 8,000 words. Please remember that reviewers and readers prefer compact and succinct writing.
We require an abstract of no more than 250 words, in structured form. It should appear in the attachment file which contains the text of your submission, and it must also be entered into the web form when submitting your work.
A structured abstract for Demographic Research consists of up to six sections:
BACKGROUND What is the motivation for this submission? Why read it? OBJECTIVE What specific question(s) does this submission address? METHODS How does the submission reach its objective? What data? What methods? RESULTS What are the main findings? CONCLUSIONS What do the findings mean? CONTRIBUTION What new contribution does this submission make to the scientific literature?
The CONTRIBUTION section is mandatory; all other sections are optional. Sections that are used should remain in order. Depending on content and type of submission, it may be appropriate to omit some sections. For example, an abstract for a literature review might omit METHODS and RESULTS, or an abstract for a Formal Relationship might include only BACKGROUND, OBJECTIVE, and CONTRIBUTION. If a submission's content does not fall naturally into these categories, authors are free to interpret the meanings of the headings very broadly.
Examples of structured abstracts are available here: Example1 and Example2.
We ask authors to provide notes and comments as footnotes within the flow of the text, generally at the bottom of the page. Should your notes contain charts, tables, long equations, or other items that make a footnote impractical, it is also acceptable to include this information in an appendix or as an endnote. Please indicate an endnote with the use of parentheses in the flow of text (see Endnote 1), or make reference to the Appendix in the text or in a footnote.
Diagrams should be submitted preferably already embedded in the text file. If you send attachments, please name each file clearly as to which figure it contains, for example: "figure1.gif". Attachments should also contain the figure number and caption within the graphic itself for the review process. Please follow this pattern for all the diagrams you submit if you cannot place them in the text.
Please remember to use the same x- and y-axes on diagrams that you want your reader to compare and to scale your images accordingly. Also, please do not rely on using a variety of colors in your graphs alone, but also consider varying color lines or shadings so that your graphs also work on a gray scale (such as in a black and white printout).
Use the table creation tools available in your word processor to make your tables. Do not use the "tab key" or the "space bar" approach. Please define any symbols or abbreviations used in a table immediately below the table itself. Include the caption you want to use for the table either in your main text file or in the attachment containing the table, should you decide to send the table as an attachment. If your work is accepted, we may request that you forward the original data used to create tables and diagrams.
2.10 Mathematical Formulae and Symbols
Most word processors have formula editors. We recommend that authors use these formula editors for their contributions. Typing simple formulae or mathematical expressions directly into the contribution using normally available keyboard characters and sub- and superscripts is also acceptable. The formula editors should be used when any special mathematical characters are required. In either case, formulae should be italicized.
Formulae, such as (1), which for various reasons become separated from the text to which they relate, should be numbered. Numbering the formulae in your contribution will make it easier to refer back to them. Complex expressions and formulae should be centered in the appropriate text location of the contribution.
| | | |
| --- | --- | --- |
| (1) | | |
2.11 Photographs, Images, Other Visual Material
Please provide captions for images and photographs (and other visual material) as part of the file. We encourage authors to place images in the appropriate position in the text. Please make sure that all images should have a minimum resolution of 300 dpi. We strongly prefer .png image files.
Acceptable formats for video and sound clips include: .mpeg, .mpg, .avi, .mp3, and animated .gif files. Be sure to describe all video and sound clips fully in your text or in an e-mail cover letter. Name the video and sound clip file attachments in such a way that their format and content are clear. We recommend that video and sound clips be relatively small in size so as to make them accessible to as large an audience as possible.
Acknowledgments should be placed at the end of the contribution, just before references list. The acknowledgments section is generally the last numbered section of a publication.
Website URLs should not be given directly in the text of your contribution, but only in your references or footnotes listing. For the review process, authors will want to include the date they last accessed this site.
List all sources cited in the text in a section at the end titled "References." Place them in alphabetical order, and do not number them. Include all authors' names. Reference citations within the text should include the author's surname and the year of publication. For exact details on how to compile your reference list, please see our Reference Guidelines. It is not necessary to format your reference list before the work is submitted, but once your submission is accepted we will request that you reorganize the list so that it conforms to our standards.
Click here for our Reference Guidelines.
Scientific research should be transparent and replicable. Demographic Research expects authors, whenever possible, to publish data and computer code that will allow readers to reproduce published results. We designate articles as Replicable if authors meet that expectation.
Complete replicability is our default expectation for empirical papers, but we recognize that it is not always possible. In some circumstances data may not be shared because it is confidential, because it was purchased from a third party, or for other good reasons. In such cases we expect authors to share all relevant computer code (e.g., program files, spreadsheets producing tables or figures from summary data, and so on) and, if possible, to provide a small sample dataset from which interested readers could generate illustrative results.
Code should be well commented, with information that allows users to understand the purpose of the various commands or formulas, and to understand their relationship to results in the text of the paper.
We will be completely flexible about file formats for data and code. However, authors should remember that the use of proprietary formats creates barriers for many readers. Whenever possible, we recommend open-access software for code and non-proprietary formats for data files. For example, an R program is preferable to Stata, and a data file in .txt or .csv format is preferable to one in Stata or Excel format.
Please prepare materials as follows:
(1) create a single archive, in .zip format, containing all programs and data.
(2) create a separate plain text file – called readme.txt – listing and describing each file in (1).
Examples are available here and here.
Responsibility for the correctness and completeness of submitted files lies entirely with authors. Demographic Research does not edit submitted files or verify that they work as claimed. We only report that "Author has provided data and code for replicating results."
3. Peer Review and Publication
This graph shows the possible routes of papers from submission to publication in Demographic Research: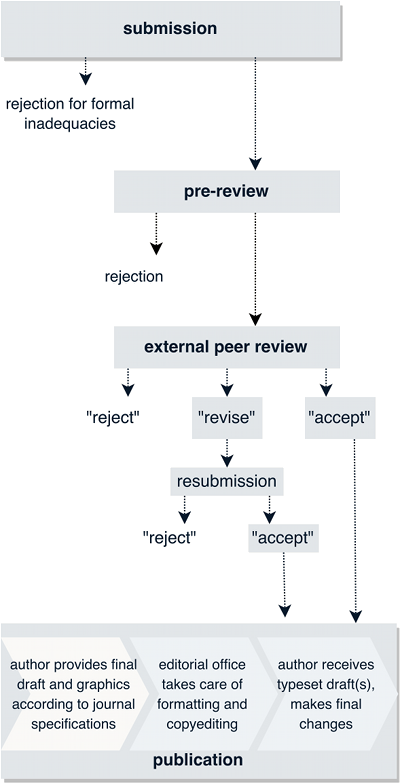 If the submission makes it through internal pre-review (this decision is made by either the Editor or an Associate Editor), it goes on to double-blind peer review. The name(s) and affiliation(s) of all authors are removed from the review file and will not be revealed to reviewers. Vice versa, the author(s) will not know who reviewed the manuscript.
Once the reviewers have finished reading the submisison and made their recommendations, the Editor or the Associate Editor responsible for the submission will view all reports and make a decision as to the next steps. An Editor may recommend that the paper be rejected, accepted for publication, or that the author(s) be given the chance to revise and resubmit their work. The Editor or an Associate Editor must give final approval before a submission can be accepted for publication, and they reserve the right to override peer reviewers' recommendations as they see fit. Confidential details of referee reports, as well as the Editor's decision made on a particular manuscript, are not discussed with the authors.
3.2 Copyright Assignment and Publication Rights
Before you submit material to Demographic Research, please read the Copyright Terms for readers and users, which explain the basis of our cooperation concerning the publication of your contribution online at www.demographic-research.org. Before your contribution can be published, we will need to have all authors and co-authors read our copyright terms and sign the Publication Agreement for Authors. Should you have any questions about any of the agreement terms, please contact the Managing Editor.
3.3 Changes to Published Material in Demographic Research
Authors of accepted papers are asked to do a final proofreading of the PDF version of their publications before the work is released. The office staff will send the author a PDF of the final draft. Once the author has approved release of the material in this form, the office staff will enter the exact date of publication and release the material. No corrections of spelling, punctuation, phrasing, layout, or formatting will be made in the document after publication. It may, however, be possible to update references to links which are no longer active or have relocated (such as a working paper which is later published)
If it is necessary to make other changes or additions to the document after publication, the author must request this in a message to the office staff. The Managing Editor will consider each request on a case-by-case basis.
for Authors
Jump to Article