Peer Review and Publication
Review Process
Copyright Assignment and Publication Rights
Changes to Published Material
1. Review Process
This graph shows the possible routes of papers from submission to publication in Demographic Research: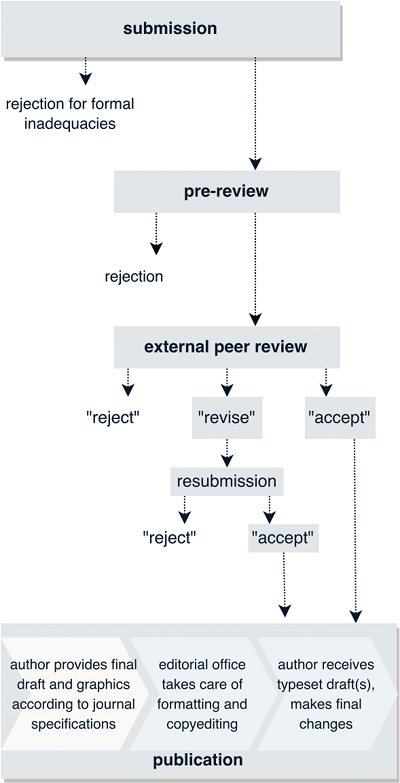 If the submission makes it through internal pre-review (this decision is made by either the Editor or an Associate Editor), it goes on to double-blind peer review. The name(s) and affiliation(s) of all authors are removed from the review file and will not be revealed to reviewers. Vice versa, the author(s) will not know who reviewed the manuscript.
Once the reviewers have finished reading the submission and made their recommendations, the Editor or the Associate Editor responsible for the submission will view all reports and make a decision as to the next steps. An Editor may recommend that the paper be rejected, accepted for publication, or that the author(s) be given the chance to revise and resubmit their work. The Editor or an Associate Editor must give final approval before a submission can be accepted for publication, and they reserve the right to override peer reviewers' recommendations as they see fit. Confidential details of referee reports, as well as the Editor's decision made on a particular manuscript, are not discussed with the authors.
2. Copyright Assignment and Publication Rights
Before you submit material to Demographic Research, please read the Copyright Terms for readers and users, which explain the basis of our cooperation concerning the publication of your contribution online at www.demographic-research.org. Before your contribution can be published, we will need to have all authors and co-authors read our copyright terms and sign the Publication Agreement for Authors. Should you have any questions about any of the agreement terms, please contact the Managing Editor.
3. Changes to Published Material in Demographic Research
Authors of accepted papers are asked to do a final proofreading of the PDF version of their publications before the work is released. The office staff will send the author a PDF of the final draft. Once the author has approved release of the material in this form, the office staff will enter the exact date of publication and release the material. No corrections of spelling, punctuation, phrasing, layout, or formatting will be made in the document after publication. It may, however, be possible to update references to links which are no longer active or have relocated (such as a working paper which is later published)
If it is necessary to make other changes or additions to the document after publication, the author must request this in a message to the office staff. The Managing Editor will consider each request on a case-by-case basis.